Richard did the Ipswich parkrun which was about 3.5km away. He met another runner on the way so at least he didn't become lost. A quite tough, undulating, single lap course, mainly on grass, around Chantry Park. Richard finished in 31 mins 40 seconds and was third out of three in his age category, the other two being 27 minute parkrunners, so he was never going to keep up with them.
Because of a shortage of water, boats could only lock out into the river on the even hour so we decided to leave on the noon lock. As it turned out a lot of others had the same idea but everybody worked together to make sure we were all safely secured in the lock and we were soon down in the river.
Our friends Alethea and Tony had left their yacht, Doucement, in Titchmarsh Marina on the Walton Backwaters for the winter and were now pottering about locally with their daughter-in-law's parents. We first met them when sailing around the UK in 2017 and had kept in touch ever since. They had picked up a mooring near to the famous Butt and Oyster pub so we decided to join them, so we didn't have far to go.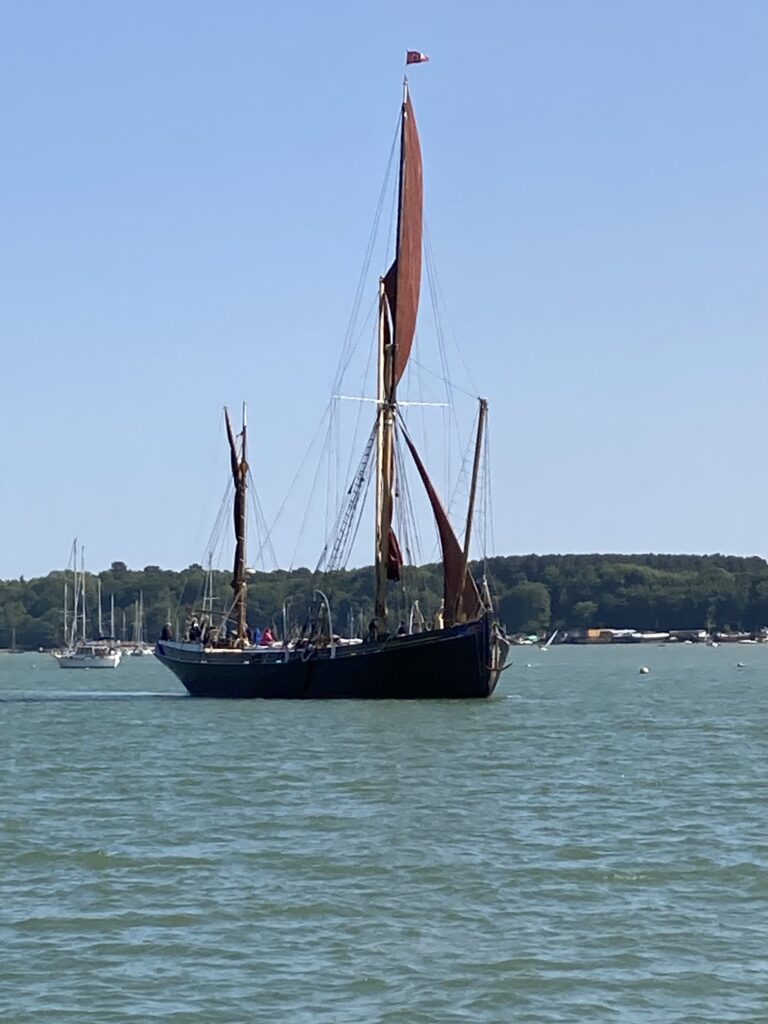 Being a bank holiday weekend there were lots of people out messing about on boats including some big sailing barges.
Alethea and Tony had booked a table for four to eat at the Butt and Oyster and asked if we would like to come along, at least for a drink, if not to eat. Their table was inside but there was a vacant table for six outside and as we were sheltered from the wind and it was a beautiful evening, we decided to stop and eat with them. Lots of people enjoying themselves including a table of Dutch sailors that were really appreciating all the beers on offer!!! For Richard, 3 pints of Ghost Ship ale straight from the cask, seemed to slip down well and with nice food we had a really enjoyable time followed by a gentle walk back to Woolverstone Marina where we had left our tenders.